Limited Biography/Time Machine Mugstalgia
Limited Biography
MARK LEACH is Muggie Doo
By Karenelle
Limited Biography

MARK LEACH is Muggie Doo
By Karenelle

Okay, it's alright if you tell me,"I don't really pay too much attention to keyboard players. They are always in the back sitting down behind a big box and I can hardly hear them anyway!
For those of you who have somehow missed the legendary MARK LEACH-aka-"MUGGIE DOO" rippin' the roof off the sucker for the last thirty plus years, that's understandable. But for those of us who have been there in the audience watching Muggie, we see it a little differently.He's spinnin, dancin and clowning at the helm of his 1940 high-rise HAMMOND ORGAN, and playing licks that's got our jaws dropped open like Lil' Abner's first trip to New York City,
and makin sure you hear it!
Performing and recording with artists like Buddy Miles, George Duke, Ana Popovic, Chuck Rainey, Micki Free, Greg Allman, Peter Frampton, The Pastorius brothers, Leon Hendrix, Riki Hendrix, Bernard Allison, Robert Lockwood Jr., Tommy Shannon & Chris Leyton of Stevie Ray Vaughan's "Double Trouble, Bernard Allison, Bobby rock, Steve Smith, Barry Whites' "White Heat", George Moye, Jeff Beck, Cornell Dupree, Bruce Hornsby, Johnny Taylor, Buzzy Lindheart, Colin James, Dick Dale,The Fabulous Techniques, Brian Auger, Frank Sinatra Jr., and the like, Mark has definitely been leaving his "Mark" on the live music industry for many years. With well over 12,000 national and international performances Muggie is not too hard for you to find on the music scene. **____________________
Muggie, born Mark William Leach , to parents Leon Thomas and Suzanne Morgan Leach (organist and singer respectively),was raised surrounded by music. Mark the youngest of two children, began playing organ at two years old and hasn't let up yet. "I think I started playing" he said "because my dad worked so much that when he was finally done each night, he'd always go to the organ to unwind". So when it was time for him to watch me, he would just put me on his lap at the organ and show me stuff. When he was at work, I'd stand up and play over my head cause I was too short to see the keys. I guess thats why I've always kept standing at the boards". He also started playing trumpet after older brother Joseph decided to give up the instrument and concentrate on bodybuilding.

At the age of six, after much pleading, and several signed agreements concerning school, chores and rehearsing that he had followed at the insistance of his father, Mark began to perform. From church basements, birthday parties to demonstrating pianos and organs at the local auction house, he was finding work anywhere he could, providing of course, they had an instrument there for him to play. Aparently he began working often enough that his father came up with a new agreement. Paying room and board, just as his father had paid to his parents when he began working at 7 years old. When asked Muggie says " That's when I learned to start being a little less than honest about what I was making", with a laugh. " I couldn't help it. He wanted 40%.

At 9 years old Mark Joined his first real band as a trumpet player. The group "FUNKY NASSAU" , was a Funk and soul 7pc band in they're upper teens and twenties. after about a year, the band organist went into the military and he began playing right hand trumpet and left hand organ. Fortunately he was left handed. lol. The band styled theyre look and stage show similar to the band "FUNKADELIC" and played very freqently much to his fathers dismay. According to his father music was just for a pastime and Mark should have been focused on school and getting a ''real" job. That hasn't happened yet.

By the age of 11 Mark began playing his 1918 hand me down Buescher trumpet and a farfisa portable organ with Cleveland area soul bands and gospel groups. Durring this year, Muggie got his first "PROFESSIONAL" lessons from none other than the legendary DUKE ELLINGTON .
Muggie recalls, "My grandmother, also a pianist and church organist, had bought us tickets to see Duke at the Admiral King Auditorium. I must have stayed awake for two or three days waiting for that day to get there. I remember walking into the place and how overwhelming it was to know I was in the same building with the Duke. It was the first real concert I'd ever been to and Duke Ellington was probably the only idol I'd ever had by that age.
"He came out and they played for nearly two and a half hours, hitting arrangements that were blowin' my mind. His playing style was so smooth and rich ,I was in complete awe." At the end of the
show my grandma just looked at me and said, 'Well, are you ready to meet him ?' I remember saying ," I don't think you can go backstage unless you know him, mainly because I was scared to death at the thought." She just smiled and said 'Grandma knows everybody' , and off behind the curtains we went.
"The next thing I know I'm standing there shaking Big Duke's hand and he's flipping my hands over top to bottom looking at them. ,,,,'You play keyboards, don't you ?' he asked. For as long as I can remember I had always played, but I had never heard an organ or piano called a keyboard before. To me that was just a part of the instrument, like the pedals or the legs.

Anyway, for the next half-hour or so he stuffed my head full of chord expansions, boogie woogie bass lines,using horn lines on the piano,and hippin me to rhythmic chops that I never even knew existed, on the "Keyboard". Muggie Laughs, "I was officially a "Keyboard Player !!".
"....I was always an 'up on top ' player and I think he got a kick out of trying to show me how to get behind a groove and support it instead of trying to pull it ahead of it's natural flow. That was my first realization
that music is not only the notes you play, but also the ones you have the ear not to".
The Duke was scheduled to return to Cleveland on February 9th of the Upcomming year and Mark was determined to have some serious improvements to his playing ready for Ellington to critique upon his return. Sadly, the February 9th concert was canceled because of Duke's illness which led to his death on May 24. " I I would never be able to thank him enough for pointing me in the right direction and for the inspiration he has given me over the years" Leach says. .
At 15 years old, during a "Battle of the Bands" at Ohio's Oberlin College, Leach was recruited by the a 16 piece child prodigy band "The FABULOUS TECHNIQUES" (also the stage band for miss
Ohio at the time ).________________ It was then that Mark switched from trumpet and farfisa organ to the HAMMOND ORGAN and (now) vintage synthesizers. Finally giving in to much unwanted pressure of the management and band members, Muggie began singing.
____________ Durring his late teens and early twenties, Mark was one of many R&B based artists implementing sensual vocal harmonies, live horns, latin stylings, funky percussive organ rythyms, and going for a full dress stage show. Broadening your horizon was then the order of the day and on the northcoast, Muggie and the Techniques were taking full advanvantage of the moment. Doing warm ups for groups including The Ojays, Larry Graham, The Moments, The Barkays and performing with Ohio gospel and latin groups Muggie was coming into his own. Now co/band leader and partner with the Fab. Techs' founder,Bassist GEORGE MOYE (now bassist with the Bernard Allison Group with Muggie), they down-sized and relocated in Tampa, Florida. It was their time to take advantage of the upsurging live music craze there (due, at least in part to the rise of Florida's favorite son K.C. and the SUNSHINE BAND.__________
At 20, Muggie, George,and vocalist VITO TRANKITA, invested all of the groups' profits and personal savings into a "too good to be true" real estate venture on Tampa's Alfia river. Within several months they were faced with the fact that they had been conned out of everything but their car and instruments. The seller didn't even own the property and of course was no where to be found when all hit the fan!! On a forty dollar loan the group headed back to Ohio and within a matter of days disbanded the Techniques. Muggie, probably to mask his fury over the turn of events, began to go at his music with a vengeance all his own._______________
"Yeah I guess I was pretty angry at the time" says Muggie. "I knew I had something different in my music and I was determined to put it to work. I started takin' every keyboard gig I could find and sometimes I'd be with six or seven groups at a time, doin' ten or twelve shows some weeks. In a way I suppose the anger was a good thing because it made me start really hittin' and roughhousing the organ. The rougher I got, the more it got over with the crowds. Plus it was giving me just the sound I'd been lookin for all along." It also gave him quite a few repair bills for broken keys!__________
In December of that year Mark joined " THE DANNY COCCO REVIEW " as arranger/keyboardist and soon recorded their first album "LADY OF THE STAGE" at Cleveland Recording, now SUMA recording. Spotted in the studio by vocalist WILLIE MARQUEZ and Producer DIEGO MARTINEZ, he was hired to do an album with the Latin rock group LOS NOMBRES who were scheduled to record the very next week. Leach was left alone to improvise through the entire set of sessions with no rehearsal. The ball was rolling now..

Soon, Mark was off on his his first "road Gig" as Organist and left hand bass for KEITH RANSOM'S "The" LITTLE BIG BAND" Formerly "RED TOP AND THE RED RYDERS. Traveling the east coast, mid-west and southern states doing Holiday and Ramada Inn circuits and private clubs Leach was in his element. Muggie was an instant road dog and to date finds himself at his happiest keeping on the road performing.
It was on the road with Keith, Guitarist JOHN COCHRAN, and vocalist MARLENE GRAHAM that he started working out with Bruce Hornsby in Va. Beach, Va. trading ideas and grabbing licks from each others styles. "To me , Bruce was and still is one of the strongest Jazz pianists I've seen," Muggie says. "He amazed me when, after not seeing him for years he hits the scene with a whole new feel ,now out of the jazz vein and climbing the charts!!"
______Muggie left the group three years later and through the rest of the decade he worked with his own groups, "THE MARK LEACH PROJECT ","THE FLIPSIDE SHOW BAND" with" THE STREET GIRLS" and toured extensively with Atlanta's "HEAVY TRAFFIC". Starting in the late 80's and to date Mark has worked often with" D.C. CARNES" and the "CONTINENTALS". D.C. is currently Guitarist with " THE ROBERT LOCKWOOD "ALL STARS",and is still active with The "Continentals.
DOUG JOHNS(then bassist for Heavy Traffic)Drummer CHRIS CEJA(formerly with NEIL ZAZA) and Muggie also began working as" THE THING", a jazz/funk/rock group doing live shows and college radio in the northeast. The trio, now renamed "HAMPSTERFISH" recorded one release entitled "Master".
Throughout the early 90's Muggie put his talents to work with Neil Zaza performing and recording on the "SING" album and the "LIVE" CD. Sharing billing with STEVE HACKETT(GENISIS), ASIA, ACE FREELY, and other rockers, Muggie was honing a sharp rock feel to blend with his funk Lazz and soul skills. During this period, Mark was also musical director for powerhouse guitarist RIKI HENDRIX until their last performance @ Bethel "97", the original site of Woodstock. It was was an offer from Riki that put Muggie and now long time partner BUDDY MILES on the stage together for the first time. Muggie recalls, " We were just closing up a rehersal at my home studio when out of the blue Riki asks me,"Hey Muggie, you think you might want to do the Return of " THE BAND OF GYPSYS" show in Tulsa with me and Bud next month?". All I remember saying at the time was "yeah sure" but thinking to myself, there's no keyboards in the Band Of Gypsys. "There was no way I was going to end up playing at a Band of Gypsys gig with Buddy Miles". Mark points out, "You have to keep in mind ever since I heard Buddy, I have been the biggest Buddy fan on the planet!"
I used to style my look and aggressive playing directly from trying to emulate Buddy all though my younger playing years. The afro ,the Top-hats even the way I sing all were 'Buddy driven'. "Hey , just look at all my old promos. I wanted to be like the best and Buddy Miles was and still is THE BEST."
Soon Muggie received a call from Buddy's then manager, Robert Fitzpatrick. Mark was to pick up Bud in Pittsburgh and fly out from Ohio two days later for the Tulsa Performance. After The opening night of the Return Of the Band Of Gypsys gig Buddy asked Muggie to join the Buddy Miles Express. Two days later Mark was on the road again, now with the legendary one himself! Muggie toured with Buddy and The Express, The Bluesberries and sometimes was caught with ROBERT LOOCKWOOD Jr. and His Allstars in the Cleveland-Pittsburg area through the 90's and 2000's. The release of" BUDDY MILES "THE BLUES BERRIES " CD produced by Jim Gaines, with guitarist Rocky Athas,Chris Leyton and Tommy Shannon of Stevie Ray Vaughans' Double Trouble was sure to get to the heart of international blues lovers. . Durring that time the Express had also teamed up with" CHER" and Tina Wesson (CBS Survivor Winner) and had released a new CD to benefit the Childrens Cranio-facial Foundation. This one is a "Must Have" for you and for the kids who are so much in need of your support.

Two years into the Express Buddy asked Muggie to take over as his new band leader. Buddy and Muggie became buisness partners in the Express, a partnership that lasted until Buddy's death in early 2008. Weeks before his passing he had asked Mark to keep the band together after he was gone, and suggested a slight change in the groups name. Buddy had told me "Take "The" off the front and just put a comma after Buddy Miles, and keep em funky, hehe" .Muggie smilingly recalls " I asked Buddy what was a comma, and he fell out of his chair laughing. he was one of a kind right up to the end." Four days before his passing, Buddy got up, did his own hair, got dressed, put on his Chuck Taylors and rode to the airport to see his friend Muggie Doo off. " We couldn't believe he did it Muggie says, but when I looked over to his wife she just said" Buddy can do anything he wants to do. "so we rode". By the time they reached the airport Buddy was fast asleep. It was probably the best way the two friends could have parted.

So, as of Buddy's passing , The Buddy Miles Express became "Buddy Miles' Express" . Muggie Doo, now the longest standing member/co-band leader of the BUDDY MILES EXPRESS is bringing the Hammond B3 to your town, your country with a trail of fire behind it!

Touring currently with the Bernard Allison Group, Mug is keeping the fire burning with all he learned from Buddy in play. Mark says " Bud and I always dug Bernard and his fathers music, and always had their CD's on the tourbus" Bernard's father was the legendary blues guitarist Luther Allison.
As George Duke put it at a performance at Rhythms in Cleveland's Playhouse Square, with Muggie as special guest, "Mark Leach"! That's what entertainment's about ! "As Buddy said of the Express "I think Mark has been our biggest influence" That means the world to Muggie Doo, coming from his own "Biggest Influence."



If you haven't seen or heard Muggie yet, it's time to get to the box office cause he's coming to throw down and believe me , you'll want to be around!

!
Mug's first promo pic at 6 years old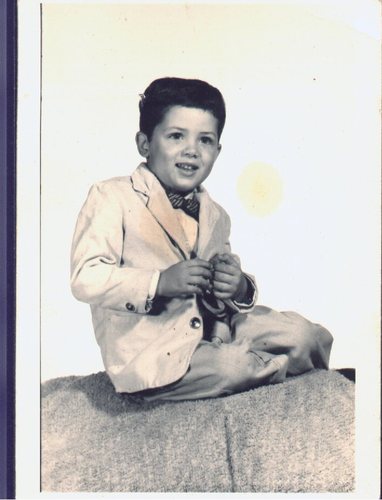 Visit the Discography page for history you can jam to !